The Future of Hospitality
Rob Geile, Vice President, Consultant Services, Ali Group
As foodservice operators, we share to grow. We share our food, we share our products and services and we all share our commitment to this industry. So why not share our expertise, experiences and best practices as well?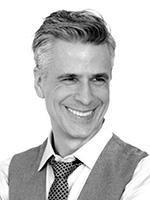 Jackson Thilenius, Senior Director, Pulse by Gettys
Virtual reality is everywhere and is impacting almost everything. So, as designers and brand leaders, what can we do to ensure the products and experiences we create deliver something real? The ever-changing course of technology is changing the way we all do business and we all must understand how it is infiltrating our industries. It's about finding the inspiration, innovation and aspiration behind every new world.
Rick Caron, Senior Vice President, Innovation, Manitowoc Foodservice
Where is commercial kitchen design and technology going? From the Frankfurt kitchen design to today's open concepts, the integration of food, equipment and people is all converging. Some of the building blocks surrounding the foodservice industry's transformation includes an engaged Millennial audience, increased data about how a kitchen operates in real-time and fully integrated equipment.