September 21, 2016
Joe Ricciardi, PhD, Vice President of Operations, Supply and Equipment Foodservice Alliance (SEFA)
Army Colonel Joe Ricciardi's experiences over three combat tours in Afghanistan and Iraq led him to ask, "Does love influence leadership?" His follow-up research has shown that the three factors of love – intimacy, passion and commitment – display a strong positive correlation to leadership. In this presentation, hear about the ways each three can have a long-lasting impact on the energy, enthusiasm and dedication of company teams willing to go beyond the status quo.
Steve Maahs, President, Alto-Shaam
How important is a strong culture to your bottom line? Researchers say companies with engaged employees outperform companies without engaged employees by 202 percent. The majority of leaders know that engagement affects their business but less than ¼ of employers have an engagement strategy. Prepare for the future by leading a strategic cultural change that aligns your values and your actions.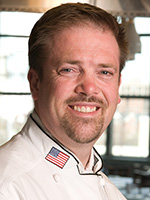 Christopher Koetke, Executive Director, Culinary School, Kendall College
We all want to be the best and to have the best food service operation. Speaker Christopher Koetke has created a best-in-class foodservice operation at Kendall College and will take the stage to inspire the push for excellence in each of our programs. It takes drive, vision and passion, and the kind of teams that will work to move each and every company forward.