FED Global Thought Leadership 2018
We had an incredible line-up of speakers who all gave TED-style talks about a variety of the most pressing issues facing the foodservice equipment and design industry today. You can view all the presentations by clicking on each presentation title below.
Eric Boelter, President, Foodservice, Boelter
As President of Boelter Companies, Eric has seen a tremendous amount of change occur both within the industry and within his family's business. Over 27 years, he has seen how channel partners have evolved to meet rapidly changing customer needs and service expectations. Boelter itself is focused on successfully growing business through innovation, differentiation and constant nurturing of Boelter's culture. The goal of each of Boelter's business units is to positively impact their customer's brands – both in image and in profitability. Boelter was the recipient of FE&S ' Dealer of the Year award in 2018.
David Chislett, FCSI, Executive Principal, Ricca Design Studios
David Chislett, FCSI, native of New York, brings 35+ years of operations, design and construction project management experience to his role as Executive Principal with Ricca Design Studios. Dave is a graduate of The Culinary Institute of America and The University of Rochester. His background includes serving as an executive chef, corporate food and beverage director, and hotel F&B design/construction manager.
Laura Rea Dickey, President, Dickey's Barbecue Restaurants
Laura Rea Dickey currently serves as Chief Executive Officer of Dickey's Barbecue Restaurants, Inc. Dickey served as the Chief Information Officer for eight years, and made the transition to CEO after excelling in her previous role. Dickey has worked in the marketing and information technology field for over 15 years, and has led the marketing, IT and training departments at Dickey's Barbecue Restaurants, Inc. during her time there.
Tobin Ellis, Hospitality Design Specialist, BarMagic
Tobin is a design and operations specialist with a combined 29 years in hospitality operations and 15 years in hospitality design whose work focuses on integrating the development, design, and operations processes. Since 1997, Tobin has helped develop hospitality concepts and designed bars from Honolulu to London, New York to Johannesburg for clients including The Starbucks Coffee Company, MGM Resorts, Marriott-Ritz Carlton, Caesars Entertainment, Hilton Hotels, Ford, Panasonic, Ace Hotels, Gaylord Hotels, Grand Wailea Resorts, and many more.
Markus Glueck, Executive Vice President, Rational North America
Markus Glueck is the Executive Vice President of RATIONAL North America. He is responsible for expediting the growth of the North American subsidiary of RATIONAL AG. Under his leadership, subsidiary revenue and profitability have increased, supported by a double-digit compound annual growth rate that exceeds category and industry averages.
Gennadiy Goldenshteyn, Vice President, Advanced Systems, Welbilt, Inc.
In his role as Vice President, Advanced Systems at Welbilt, Gennadiy Goldenshteyn is charged with the responsibility of thinking ahead of the current marketplace and guiding complex and innovative kitchen system solutions through new product development process to production and market introduction. Goldenshteyn brings extensive automotive and aerospace experience to the world of foodservice.
Kathy Langlois, Managing Director, O.C. Tanner
Fully 80 percent of executives rate employee experience as an important issue they need to tackle. Workplace culture is a trending topic everywhere. Which cultural traits will make your company a magnet for top talent? Inspire people to achieve? Make them want to stay? In this session, Kathy Langlois will explore the six fundamental aspects of creating a magnetic culture that inspires people to deliver great work.
Lucy McQuillan, Executive Vice President of Global Sales, Alto-Shaam Inc.
Lucy joined Alto-Shaam in 2015 to lead the global sales, culinary and product management teams with a focus on ensuring that Alto-Shaam customers receive the highest level of service and support before, during and after the sale. Lucy also serves as an active executive team leader and board member, driving corporate growth strategies.
Angelo Mojica, Senior Director of Food and Culinary Services, Johns Hopkins Health System
Angelo holds the distinction of being the only Certified Executive Chef and Registered Dietitian to practice at the Doctoral level. He has worked for 30 years in foodservice management in a variety of acute and long term care settings. Angelo is fortunate to have worked at such prestigious institutions as UNC Health Care, Cleveland Clinic and Johns Hopkins.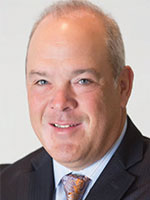 David Portalatin, Vice President and Industry Advisor, Food & Beverage Consumption, The NPD Group
David Portalatin is The NPD Group's national analyst on all aspects of food and beverage consumption in home and away from home. In his role as vice president, industry advisor, Portalatin provides information, insights, and analysis on how U.S. consumers eat and drink, their attitudes and motivations, diet and nutrition, snacking, and personal characteristics.
Dee Robinson, founder and president, Robinson Hill
Dee Robinson is an entrepreneurial leader with a solutions-focused management approach and strong track record of successful results, growth, financial performance, creativity, and team building. Drawing on her varied experience in food & beverage, consumer products, advertising and banking, she founded Robinson Hill, Inc., a concessions management firm specializing in airports and other non-traditional retail and F&B locations across the U.S.
Steve Spittle, Group President, Commercial Foodservice Segment, Middleby Corp.
Steve Spittle is a Group President within Middleby Corporation's Commercial Foodservice Segment. He is responsible for the Middleby brands Pitco, Blodgett, MagiKitch'n, Anets, Perfect Fry, Marsal, and Market Forge. Steve also has oversight for the Middleby National Account teams.
Steve Starr, President, Starrdesign
With decades of experience in the industry, Steve Starr has become a nationally-recognized leader in restaurant and retail design. While his insight and expertise spans the hospitality industry, his focus is on branding, consumer behavior and the development process.
Joseph Szala, Creative Director and Principal, Vigor Branding
Meet Joseph Szala, the creative director and principal of Vigor, a restaurant and beverage branding and marketing agency, and Grits X Grids, a restaurant branding inspiration blog and podcast. For over 15 years, Vigor has built a reputation for bullish brand thinking and marketing excellence in the food and beverage space with Joseph at the helm.