Speakers
Peter Cancro, CEO, Jersey Mike's Subs
Peter Cancro began working at Jersey Mike's at 14 years old when he took a job in the original sub shop opened by a guy named Mike. Three years later Cancro, with the financial assistance of his high school football coach, bought the company. At that time, Cancro had no idea his first job would be his last. In 1987, Jersey Mike's began franchising, and today the company has 1,700 locations open systemwide. Key ingredients in the company's foundation for growth include promoting from within and community involvement.
Patrick Conlin, President, Wayback Burgers
In April 2017, Conlin joined Jake's Franchising, LLC, the franchisor of Wayback Burgers, as Senior Vice President and was promoted to President of Jake's Franchising, LLC in January 2019.
Scout Driscoll, Founder and CEO, DesignScout, a Branding Agency
Scout Driscoll is the CEO and Principal Designer of DesignScout, an award-winning brand evolution firm specializing in food and beverage consumer brands. Driscoll is especially proud of her firm's dedication to uplifting entrepreneurs and building authentic and honest brands. Setting them apart from competitors, growing their audiences, and increasing the bottom line.
Sandra Duff, SVP, Strategy Activation & Operations, Jackman Reinvents
Retail is Sandra's bread and butter. With her hands-on leadership style and ability to lead idea to execution, she is a trusted advisor to C-Suite executives and consistent catalyst for growth.
Dick Eisenbarth, FCSI, President, Emeritus, Cini•Little International, Inc.
Initially joining Cini•Little International, Inc., in 1977, Dick Eisenbarth, FCSI, has enjoyed a successful career with the firm, holding a wide range of senior positions throughout his tenure. He has earned a reputation as a leader in the design of dynamic, resourceful and efficient food and beverage facilities for the world's leading hotels and resorts, contemporary higher education campuses, major stadiums, arenas and convention centers, and corporations.
Tim FitzGerald, CEO, Middleby
Mr. FitzGerald has been heavily involved in all strategic and operating decisions during his tenure, and has been responsible for the Middleby acquisition and business development activities since joining the company. Additionally, Mr. FitzGerald has lead the development and had oversight for the Middleby Worldwide international sales and distribution operations. More recently he developed the Middleby residential distribution platform supporting growth for Viking and all the residential brands.
Jim Lund, CEC, Director, Design & Consultant Resources, RATIONAL North America
Jim has 35 years of industry experience, beginning as a dishwasher after going to college for Computer Science he fell in love with the hospitality industry. He then went to culinary school and climbed the ranks to a Certified Executive Chef. He spent 8 years as a RATIONAL sales manager in the central region and for the past 5 years has been responsible for the Design and Consultant Resources.
Steve Maahs, President and Chief Operating Officer, Alto-Shaam
Steve Maahs has led Alto-Shaam since 2007 following his father Jerry Maahs, the company founder. He began his Alto-Shaam career in inside sales and customer service, eventually working across every function of the business prior to becoming Alto-Shaam's President and Chief Operating Officer.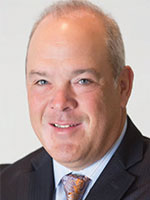 David Portalatin, VP, Food Industry Advisor, The NPD Group, Inc.
David Portalatin is The NPD Group's national analyst on all aspects of food and beverage consumption in home and away from home. In his role as vice president, industry advisor, Portalatin provides information, insights, and analysis on how U.S. consumers eat and drink, their attitudes and motivations, diet and nutrition, snacking, and personal characteristics. He works closely with food manufacturers and retailers; foodservice distributors, manufacturers, and operators; and media outlets in providing strategic business insights into current and future eating patterns in America.
B. Hudson Riehle, SVP, Research & Knowledge Group, National Restaurant Association
As the Senior Vice President of the Research and Knowledge Group for the National Restaurant Association, Hudson Riehle directs the Association's consumer, economic, market, human resources, tourism and operations research as well as oversees its extensive knowledge center activities.
Rafi Taherian, Associate Vice President, Yale Hospitality
Rafi Taherian is an innovative and passionate food industry leader with a zest for creating exciting new concepts in campus dining. He believes that collegial dining provides an ideal setting to incubate and develop pragmatic solutions for food literacy, food R&D and food sustainability.
Amanda Wurzbach, Founder and Principal, Total Dish Marketing
Amanda Wurzbach is the Founder and Principal of Total Dish, a messaging and branding firm lauded for shaping stand-out brands, one-of-a-kind concepts, and memorable messaging platforms for retail, restaurant, and hospitality brands.