---
After analyzing new habits developed from the pandemic, this session will forecast what's next for Main Street and Central Business Districts throughout the country. It's not a matter of David vs. Goliath, but how one-off restaurants and large chains can learn from one another to grow and succeed in this next wave of development.
Lauren Chipman, CEO, Chipman Design Architecture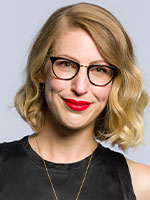 A true multi-disciplinary designer and performing artist, Lauren Chipman brings a distinct sense of creative leadership to her position as Chief Executive Officer at Chipman Design Architecture. Prior to her work at Chipman, Lauren performed professionally as a string instrumentalist with a resume that includes recording for television, film and top Billboard artists. Today, Lauren is proud to be part of the third generation to carry on her family's legacy.
Lauren's unconventional background and innate sense of innovation allow her to bring a fresh perspective to the impact of hospitality, retail and restaurant spaces. Despite helming a well established firm that supports national clients like Chick-fil-A, Jeni's Splendid Ice Creams, Ulta Beauty, Marriott, Peet's Coffee and CVS, Lauren's entrepreneurial vision often goes beyond traditional industry approaches. From pioneering integration of new technology in the conceptual design process to almost exclusively recruiting multi-hyphenate talent, Lauren directs the company with the future in mind.
A holistic leader, Lauren leverages her own experience as an industry outsider to cultivate a unique, forward-thinking environment composed of a team with diverse backgrounds. She pushes the firm to not only solve for present design challenges, but also develop foresight into cultural and behavioral changes. This high level of adaptable strategy allows the firm to keep clients ahead of the curve, and nimble in response industry shifts.
Lauren has spoken at numerous conferences, including Globalshop, Google Zeitgeist, design:retail Forum, MUFES, MUFSO and Bitac Luxury. A Professional Affiliate of the AIA, Lauren also holds memberships in such industry organizations as NOMA and RDI, and was recently recognized with vmsd's "40 under 40 award."