---
How can modern technology help meet the varied challenges that operators face today? Today's challenges include skill and labor shortages, rising material and utility costs, increased demand for quality in individualized menu offering, as well as increasing diversity in delivery methods and increasing hygiene requirements. The Foodservice industry has seen enormous technological advancements over recent years, accelerated during the pandemic period. Selecting the right equipment can help future-proof your operation, ensure return on investment, and deliver a quality experience to the customer - all of which have never been more important.
Simon Lohse, Executive Vice President, RATIONAL North America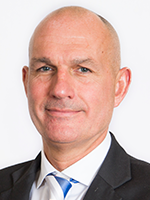 Simon Lohse is the newly appointed Executive Vice President of RATIONAL North America. He is responsible for leading and developing the business in USA, Canada and Mexico, to continue to deliver substantial and sustainable growth through supplying maximum customer benefit. Simon has over thirty years of experience in the Commercial Foodservice Equipment industry, having held executive roles in a number of disciplines including Research and Development, Manufacturing, Service and Maintenance and Sales and Marketing.
Simon most recently held the position of Managing Director for Hobart Service UK before joining Rational in 2016 as Managing Director for the UK and Ireland subsidiary. In this role he delivered double-digit compound revenue growth increasing market share and substantially increasing profitability.
Simon gained professional qualifications in Mechanical and Production Engineering from a UK Technology College and is a Certified Foodservice Professional.
Throughout his career he has believed in developing and promoting a team ethos that allows individual development. He is passionate about creating and sustaining true business partnerships that ultimately deliver an experience that exceeds customer expectations.
In promoting and advancing the RATIONAL brand, building a performance orientated organization, he sees the future sustainable commercial kitchen being focused on highly efficient multi-functional equipment with superior after-sales support to assist operators in maximizing their profitability.